Severn Valley Woodworks Limited
Church Lane, Northwood Green,
Westbury-on-Severn, Gloucestershire, GL14 1ND
Tel: 01452 760994
Fax: 01452 760993
email: [email protected]
Challow Products
Unit 7, Old Sawmills Road
Faringdon, Oxfordshire, SN7 7DS
Tel: 01367 240091
Fax: 01367 242516
Contact: Mary Draper (Sales)
email: [email protected]
Lingward
Unit 7, Old Sawmills Road
Faringdon, Oxfordshire, SN7 7DS
Tel: 01367 240091
Contact: Paul Kelleher (Sales)
email: [email protected]
Hutton Garden Products Ltd
Church Lane, Northwood Green,
Westbury-on-Severn, Gloucestershire, GL14 1ND
Tel: 01452 762089
Fax: 01452 760993
email: [email protected]
How To Find Us
Westbury-on-Severn
Severn Valley Woodworks Limited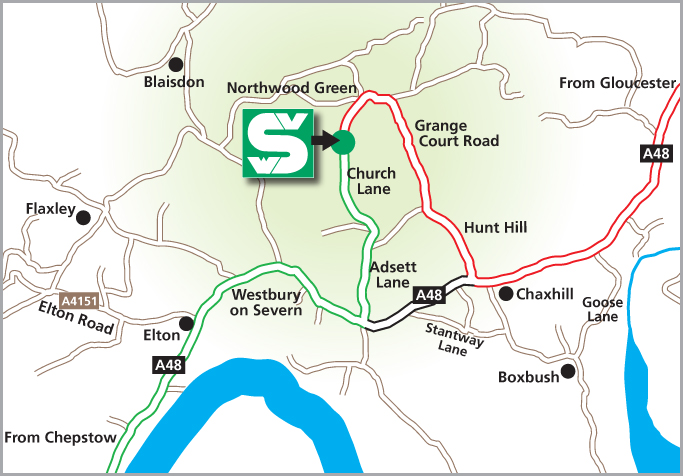 Severn Valley Woodworks has its own transport fleet to help ensure prompt and efficient deliveries throughout the UK.
PLEASE NOTE: HGV drivers should follow the red route.  The green route is not suitable as there is no HGV access from the south of Church Lane.  
There is NO OVERNIGHT PARKING onsite or in the village.
From Chepstow
Take A48 towards Gloucester. Take by-pass around Lydney. Continue through Blakeney & Newnham. Just after the village of Westbury-on-Severn take left turn signposted Northwood Green (Adsett Lane). Take first left into Church Lane and follow lane over railway crossing. Entrance to Severn Valley Woodworks is 100m on the right hand side.
From Gloucester
Take A48 towards Chepstow, through Minsterworth. At Chaxhill take the right turn sign posted Northwood Green. At junction turn right towards Northwood Green. Turn left at T-junction into village. Go through S-bend and take the first left (opposite telephone box) into Church Lane. Entrance into Severn Valley Woodworks is at the bottom of the hill on the left hand side.
Lydney
Severn Valley Woodworks Limited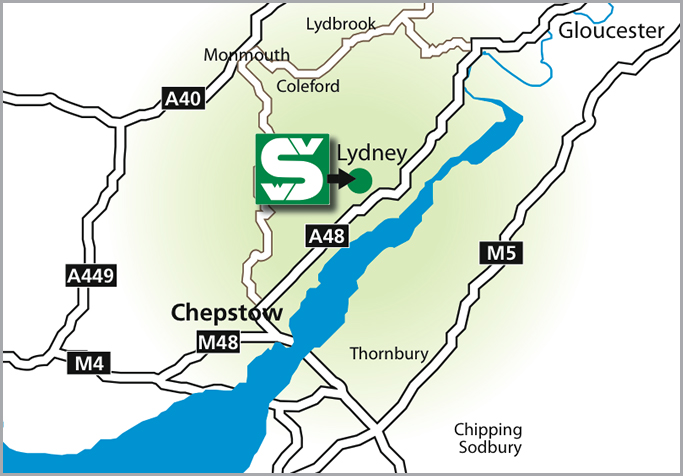 Units 1 to 3 Ward Industrial Estate,
Mead Lane, Lydney,
Gloucestershire, GL15 5EU
Telephone: 01452 760994