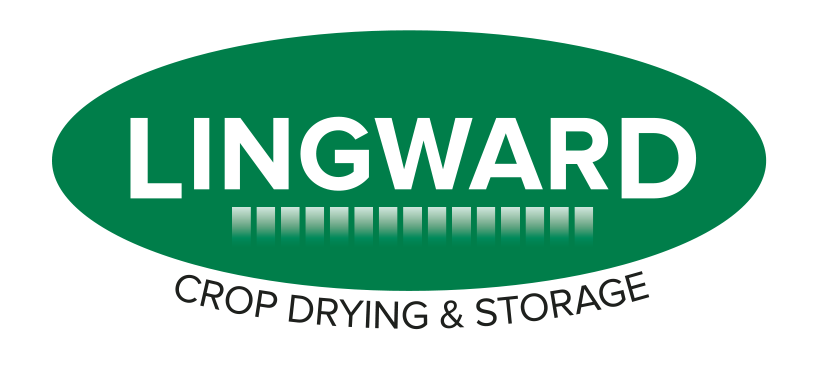 The Lingward product range of crop drying and storage products offers a flexible in-situ built alternative to the farming industry.
The comprehensive LINGWARD range of crop drying and storage products includes main air ducts and meshed drying floors, in either hardwood or softwood options.
These allow effective bulk grain drying and potato storage and can incorporate individually designed letterbox ducts for the more sensitive drying and storage of onion and flower bulbs in 1 to 3 tonne boxes.
A range of associated items for the grain stores has also been developed, including self shedding walling, portable "L" & "T" dividing walling and post & panel dividing walling which can also be used as doorway barriers. 
Our products include:
Main Air Ducts and Drying Floors
Letterbox and Special Root Crop Ducts
Self-shedding Walling
'L' and 'T' Walling
Post & Panel Walling and Doorway Barriers
For more details on our LINGWARD product features please keep reading or view our latest leaflet here.

Main Air Ducts and Drying Floors
The standard range of Main Air Ducts for Grain Drying are manufactured from hardwood frames with glued and nailed gussets.
The duct is assembled on site using angular ring shank nails to secure the ply to the frames, and the frames are fixed to the concrete floor with welded RSA anchor brackets and bolts.
The height and width of the ducts are variable to accommodate different grain depths and airflows with two basic formats available; up to 3.0m deep and up to 3.66m deep. For bulk potato and onion storage the ducts can be up to 5.5m to accommodate the high airflow required in onion drying, although crop depths would normally be limited to 4.3m.
Fans can be mounted on the end or top of the ducts depending on the general layout of the building and the crop ventilation requirements.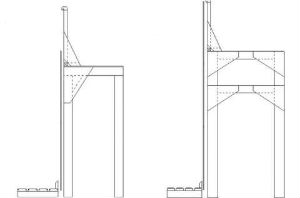 Typical softwood drying floor being offloaded.
Hardwood drying floor with a timber main air duct for 3.66m deep storage.
Hardwood drying floor fitted to a new steel main air duct for 3.66m deep storage.
The drying floors comprise hardwood or softwood top boards with treated softwood bearers and are assembled on site. The standard board length is 1220mm but they can be made to match the existing main air duct outlet centres where existing above floor lateral systems are being converted. The use of short boards and on-site installation also allows the floor to be fitted to follow existing concrete levels in older stores.
Combination hardwood/softwood drying floor fitted to an existing steel main air duct with a timber transition duct to connect to existing air outlets.
Combination hardwood/softwood drying floor with a timber main air duct for 3.0m deep grain storage.
View of a combination hardwood/softwood drying floor from the timber main air duct catwalk.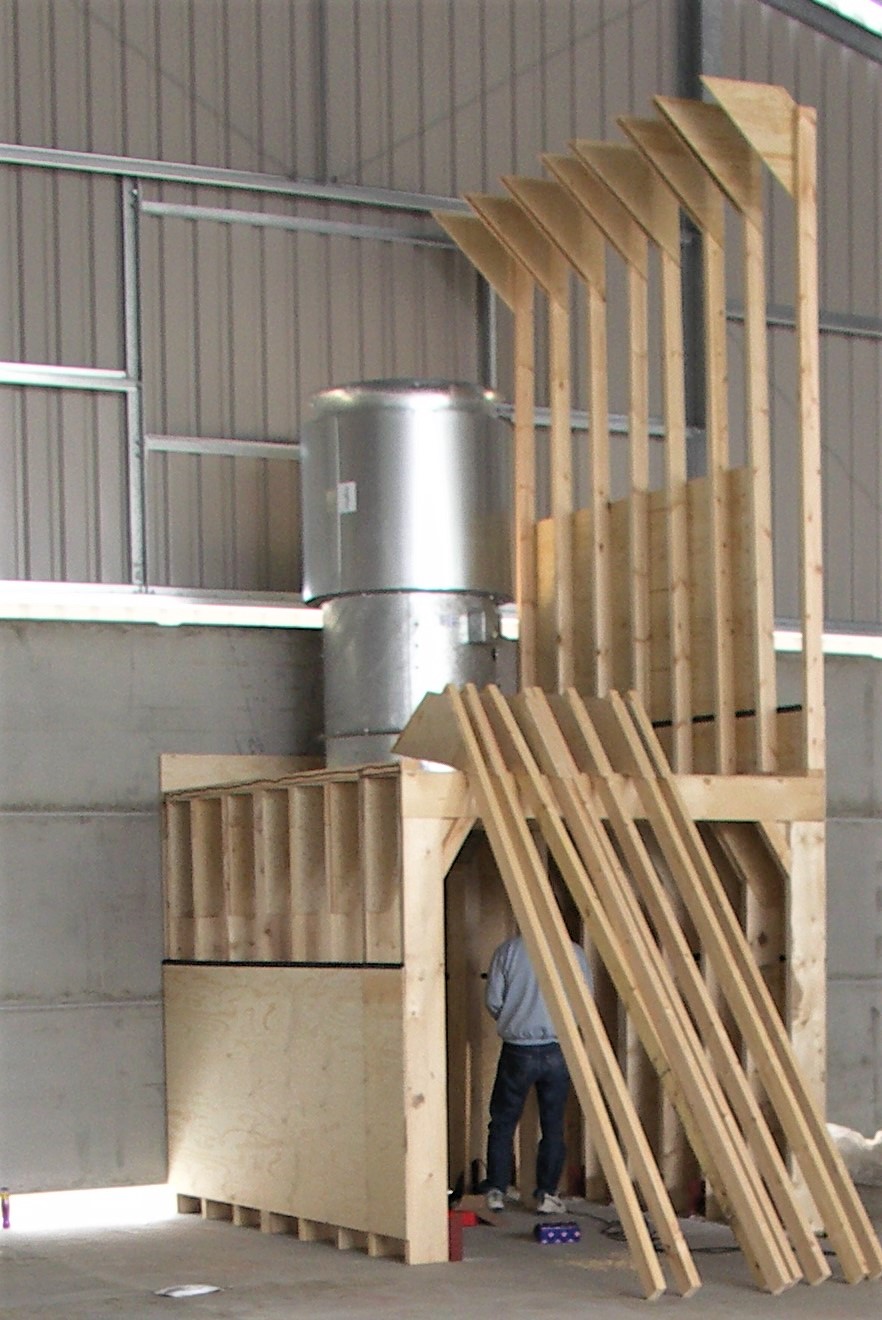 High Level Fan Room on a Main Air Duct, using softwood frames, under construction, with an axial fan unit mounted on the top of the duct. This is an alternative to the external fan house.
The main bearers are 70mm wide incorporating the "Lingward Ply Strip Air Control" with the intermediate bearers 45mm wide machined 1mm smaller in depth than the main bearers to prevent the boards rocking on the end.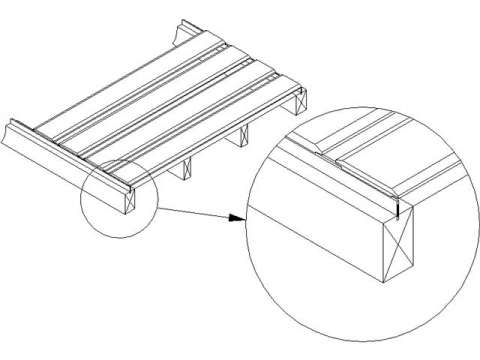 Letterbox Ducts and Suction Walls
Designed to meet the requirements of the particular root crop and site, these are generally used for potato, onion and flower bulbs incorporating controlled ventilation for drying, cooling and refrigeration.
The frames, constructed from hardwood, are spaced to suit the clients box size and layout and can incorporate an internal walkway to give access to the air control doors on the outlets. Recirculation chambers for refrigerated stores are positioned on top of the duct incorporating the recirculation fans and evaporation coils.
Where the main air duct is located at the side of a building an "F" frame can be used to allow the side cladding to be part of the duct.
Fixing of studding and cladding to steel frames built into the building structure is also undertaken for both main air ducts and side retaining walls.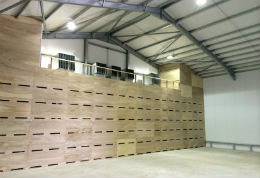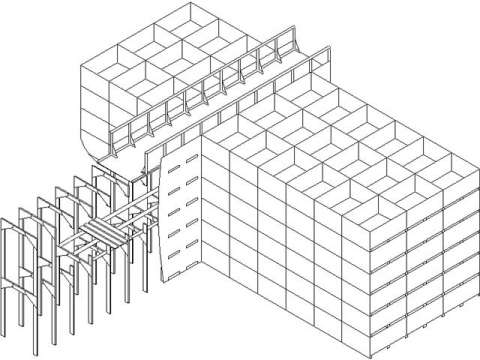 Illustration of a Letterbox duct
Self-shedding Walling
A range of self-shedding walling suitable for converting buildings into bulk stores where there is an existing concrete floor and weather-proof non-load bearing external walls.
The walling is positioned directly on and anchored to the existing concrete and is available in heights from 1.8m to 3.6m.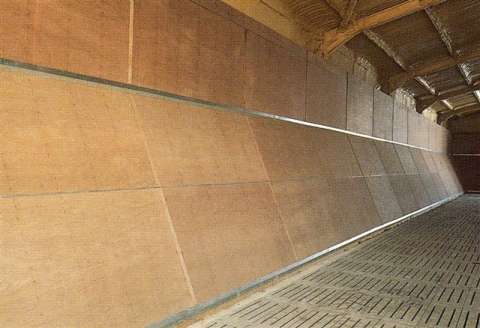 'L' and 'T' Walling
Portable retaining and dividing walling for flexible and temporary storage.
Supplied in 1.22m wide sections and heights of 2.44m, 3.05m and 3.66m. Constructed from softwood studding with plywood cladding and steel tie bars.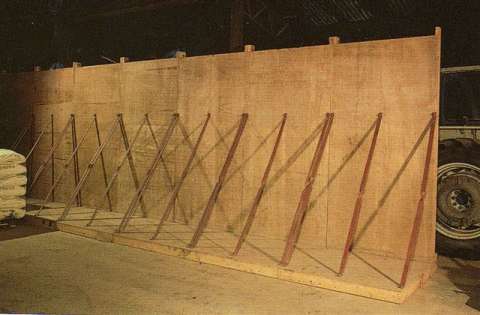 Post & Panel Walling and Doorway Barriers
A combination of steel posts set permanently into the concrete floor or into socket boxes for easy removal.
Timber panels clad both sides are positioned between the post flanges for grain dividing or outside the flange with single side cladding for retaining.
The panels are constructed from softwood timber studding with ply cladding and are normally supplied in heights of 610mm and 1220mm, with the lengths to suit the specific application.
For doorway barriers a section of easily removed louvered timbers can be incorporated into the system or grain release slides utilised in the panels.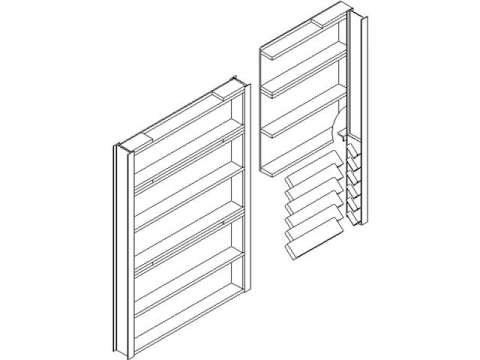 Below Floor Laterals
Based on the Drying Floor, these are modules for laying into the rebates of below floor lateral ducts.
Designed to suit your existing or new system.
Photo shows Grain Drying Laterals to replace existing potato open slot timbers.