Use this page to access all the information and documents you may need as a Hutton Garden & Landscaping Products stockist.
PRODUCT GUIDE/CORPORATE BROCHURE
Softwood Products from Severn Valley Woodworks.
First established in 1970, Severn Valley Woodworks is today recognised as one of the leading suppliers of quality timber and timber products in the UK.
This product brochure gives you all the information that you would need on our softwood products:
• Machined Softwood
• Anti-slip Deck Boards
• Buildings
• Bulk Manufacturing
• Challow Crop Storage
• Challow Agricultural Structures
• Challow Golf Driving Range
• Lingward Crop Drying and Storage
• Hutton Garden & Landscaping Products
as well as information on our timber treatment and our 15 year TREAT-RIGHT performance warranty.
A5 HUTTON CONSUMER LEAFLET
A handy A3 to A5 folded guide of our core HUTTON garden and landscaping product range.
Perfect for customers to pick up in store.
POINT OF SALE BOARDS
Most of our products now have a point of sale board available for you to display.
Each board shows the product in a lifestyle setting and gives customers key information about the product.
Just let us know which product boards you require.
PRODUCT SWING TAGS
Use our weather-proof swing tags to display essential information and benefits of our products. Available for our Furniture and Bird Ranges.
Attach one to each of our Hutton softwood products and give your customers the confidence to buy.
BANNERS
Our eye catching point of sale banners are available to display at appropriate areas within your business.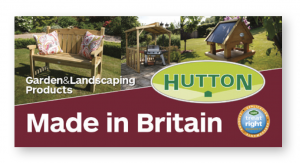 WATER REPELLENCY 
Pressure preservative treatment is designed to prevent wood decay and insect attack to give softwood construction and landscaping timber products an extended and low maintence service life. The treatment is not intended to perform as a waterproofing agent. Read more..
IMPORTANT INFORMATION
In the unlikely event a product is faulty or damaged upon delivery; any issue must be advised within a reasonable period. The definition of reasonable depends on the product and how obvious the fault is, however, even with more complex items you should work on the basis that this is no more than three to four weeks from receipt.
This does not affect your statutory rights.
Whilst your delivery driver is present ensure that you check your shipment before signing the delivery receipt, as notifications of damaged or shortages should be noted on the signed proof of delivery.