All Hutton products, where appropriate, come with easy to follow instructions. Please take time to read these carefully before assembling.
Hutton products are built to last with high quality timber to refined designs. Joinery standards are second to none with professional carpenters using pressure treated softwood that offers long-lasting protection against rot, insect and fungal attack.
Although the TANALITH wood preservative used in the pressure-treatment process is of the highest quality, it doesn't protect timber from the effects of weather.
Without additional protection UV rays from the sun will weather timber changing the colour to silvery grey. Moisture will negatively affect the lifespan and performance of a timber product, so it's essential to add a high-quality protective water-repellent coating to your Hutton product.
Here are our tips and advice for getting the best out of your product.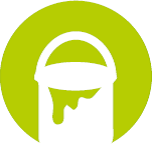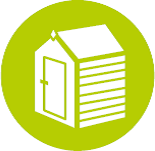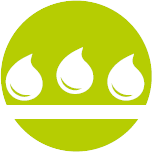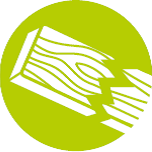 Softwood is a natural product that can twist or warp through changes in climatic conditions. To minimise this, Hutton products should always be sited on firm and level ground that is away from areas where water collects
During the pressure-treatment process, some grain may be raised. If desired this can be removed by a little light sanding
Green marking may become visible as salt leaves the timber whilst it dries following pressure treatment. It will fade over time and does not affect the performance of the product. Remove any of this solid salt residue with a wire brush or light    sanding prior to painting. A micro-porous (breathable) coating will allow any further moisture to evaporate out through the paint
Changes in the weather may cause fixings to loosen but these can be tightened up as appropriate
Softwood may at times develop cracks in the surface called 'shakes'. These are a natural occurrence and can be prevalent during changes in temperature and humidity as the timber expands and contracts. Please note that this will not affect the performance or durability of your product. If desired, any shakes can be rectified by applying proprietary wood glue making sure to follow the manufacturer's instructions at all times. Once dry this can be sanded to a smooth finish. Application of a high-quality protective water-repellent coating can reduce cracking by stopping moisture penetrating into the timber, one of the causes of this natural process in timber products
Over time the colour of your Hutton product will gradually weather, first to a honey brown and then to a silver grey. This does not indicate any loss of preservative protection. To keep the original colour of your timber you will need to apply a clear wood paint, oil, or stain, that has UV blockers to stop the greying process
A quality wood paint or oil can be applied to your product to provide protection and colour. Garden designs can benefit from a coloured timber product whether it be a bench, arch, arbour or building, complimenting planting and adding year-round colour. Apply in dry weather and follow the manufacturer's full recommendations
Some staining can occur on paint coatings as tanins and/or sap/resin come out of the new timber. This is a natural process but a stain-blocking primer and/or knotting agent can be applied prior to painting to minimise potential staining
Pressure treated products can be painted with a high-quality wood treatment as long as the moisture content is below 18%. Always check with the manufacturer as some treatments can cause the timber to warp or split if it hasn't fully dried
Sheds are pressure treated but will need additional protection from the weather and in particular, moisture penetration. Apply a high-quality water-repellent paint or oil to help seal the shed, making sure that joints and fixings such as nails and screws, are well covered. A good microporous coating will allow any internal moisture to evaporate out through the external coating
When applying a wood paint, oil, or stain, pay particular attention to horizontal surfaces and areas that can collect water. Coatings will degrade quickest on a horizontal plane with cheaper products wearing faster. Vertical surfaces can last for years before a maintenance coat is required
Maintain your timber product on an annual basis, or sooner if required. Clean paint coatings with soapy water and apply a maintenance coat when required. The better the quality the more years it will be before a maintenance coat is needed. Untreated timber products should be cleaned with soapy water or a wood cleaner
In the unlikely event a product is faulty or damaged upon delivery, any issue must be advised within a reasonable period. The definition of reasonable depends on the product and how obvious the fault is, however, even with more complex items you should work on the basis that this is no more than three to four weeks from receipt. This does not affect your statutory rights
Whilst your delivery driver is present ensure that you check your shipment before signing the delivery receipt, as notifications of damages or shortages should be noted on the signed proof of delivery.